Announcements
We are thrilled to announce that we have 29 co-sponsors on the We the People Amendment (HJR 48)! 
Our strategic goal this year is to reach 35 co-sponsors, and we are well on our way!
We want to thank both our lead sponsor, Rep. Rick Nolan and our Move to Amend affiliates for their handiwork. Well done!
Of course we want to thank our first-time co-sponsors:
Rep. Alma Adams [NC-12],
Rep. Donald Beyer, Jr. [VA-8],
Rep. Suzanne Bonamici [OR-1],
Rep. Eliot Engel [NY-16],
Rep. Derek Kilmer [WA-6],
Rep. Ro Khanna, [CA-17],
Rep. Donald Norcross [NJ-1],
Rep. Eleanor Holmes Norton [DC-At Large],
Rep. Jamie Raskin [MD-8],
Rep. Jose Serrano [NY-15], and
Rep. Paul Tonko, Paul [NY-20]
If you're a constituent of one of the above members of Congress, send them a thank-you note here. They need and will appreciate your support. (A full list of our co-sponsors is here.)
Contact your member of Congress and ask them to co-sponsor H.J.R. 48, the We the People Amendment!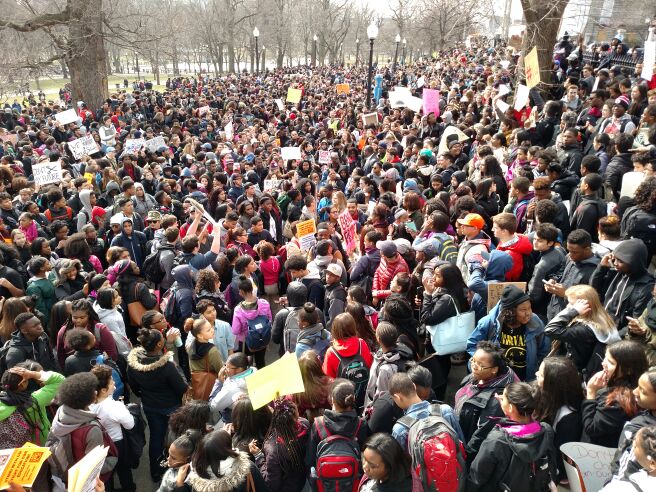 Thousands of Boston high school students have descended onto the Boston Common and the Massachusetts State House in an unprecedented citywide walkout. Students are demanding the city rescind a controversial property tax break to General Electric and cease all budget cuts.
Huge margins back up claim that 'nearly all Americans share the sentiment that corporations should not have the same rights as people'
Citizens in dozens of communities voted overwhelmingly on Tuesday for their legislators to pass a constitutional amendment to overturn the Supreme Court's Citizens United v. Federal Election Commission decision, which opened the door for the super-rich and corporations to trample democracy.
As they headed to the polls to vote in what turned out to be the most expensive midterm election in history — one in which outside money from undisclosed sources played an outsized role and the number of small individual donors shrank — voters across the country made clear their desire to end corporate personhood and get big money out of politics.
Press Coverage
North Shore residents outraged by the latest blow to U.S. campaign finance law rallied in Salem last week, calling for an end to the corrosive effects of corporate cash in the democratic process.
"It just really pisses me off," said Rick Marks of Newbury, who held a sign and waved to passing cars in Riley Plaza. "Corporations and special interests already have so much power. Now they can buy even more influence in politics."
EnterpriseNews.com Guest Opinion
When Abraham Lincoln signed the Emancipation Proclamation, it was the action of one man who, though supported by many in the nation, was the driving force for the issue behind the proclamation. We are indebted to Lincoln for working as he did to bring about a transformative change in our nation.
Every so often, citizens get to vote on an issue that is also transformative to our nation, where masses of voters, rather than the stroke of one man's pen, bring about a healing change. Adding an amendment to the Constitution is just such a movement, and it is going on now.
Congress Responds to Move to Amend Grassroots Organizing with "We the People" Amendment
 
The growing grassroots democracy movement took another huge step forward this week when Congressional Representatives Rick Nolan (DFL-Minnesota) and Mark Pocan (D-Wisconsin) joined Move To Amend coalition organizers Ben Manski and George "Leesa" Friday at the National Press Club to announce that the "We the People Amendment" was being introduced in Congress (H.J.Res. 29).
This amendment clearly and unequivocally states that:
Section 1. Only People Have Constitutional Rights